Is there anyone else who was glad to bid 2017 farewell? To say 2017 was an odd and difficult year for me personally would be sugar coating the situation a bit. I should preface all of this by admitting that I am naturally a glass half empty kind of person. The trees often block my view of the forest! With that background knowledge, I'll proceed to let you know exactly what went down for our family in 2017.
We began the year with the news that, then, CPT W would be making an international trip on an arbitrary, ever changing date, for an arbitrary, ever changing length of time. So for a few months we lived in anticipation and making preparations, which included various state side trips to get things in order and prepare for the impending overseas travel.
And the big dark cloud hanging over all of these circumstances – whether or not we would move our family of 6 to the midwest for a year. I never had any intentions of moving to the midwest…like ever. I don't need to hunt down Dorothy or Toto and there's no yellow brick road that I want to skip along with the Tin Man! Truthfully, we have a child on the Autism Spectrum whom we didn't want to attend 3 different middle schools. I mean how bad would that stink for him?
Once we had pretty much made the decision to not move the whole family, we had to decide what to do about our living situation here. Our lease was set to expire in June. The rental options here are fairly limited and we had a few stipulations we needed to work around if we were to rent again. So, we decided to buy the Yellow Cottage. There's more to that story, but I won't bore you with it now.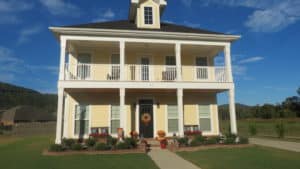 CPT W made his international trip in the late spring.
A few days before he returned, I closed on the Yellow Cottage. A week after he returned, he became MAJ W, a major, no pun intended, bright spot in this whole year.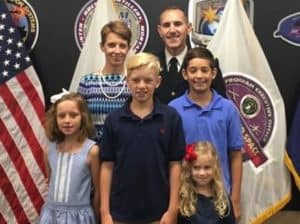 We spent the 6 or 7 weeks he was home, between international travel and year long relocation to Kansas, trying to get stuff moved from the rental house to the Yellow Cottage. We spent incredible amounts of time cleaning and scrubbing and busting our butt to get the rental ready to hand the keys back to the landlord. We spent weeks wondering if we would get our deposit back and discussing how much we would fight him if he jerked us around. Lots of mental energy wasted over that whole situation. Unfortunately, we didn't get our full deposit back, partly because the 20 year old mailbox was leaning. You can laugh! Technically he still owes us $62 from a utility bill he never transferred back to his name, but at this point it's water under the bridge.
Since late July, I've been geographically single parenting, and at least once a week, I have sent  MAJ W a text telling him what a horrible mistake we made by staying put. Then I consider the alternative and think this was just a no win for all of us.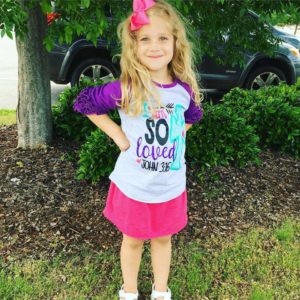 Shortly before MAJ W left for his military course in Kansas, we sought out therapy options for our 4 year old, HarpAlyse, who struggles with emotional self regulation and a host of other little quirks. I spent most of the spring avoiding taking her places because she was like a ticking time bomb; we never knew what would get her in a tizzy! Months of therapy have helped her tremendously, but she still has a long way to go. She's not an easy going, roll with the punches kind of kid by any stretch of the imagination.
We have figured out how to navigate getting to practices, games and swim meets, with the help of some other swim families to whom I am forever indebted! We go to bed much later than we should as the result of  the craziness of our evening schedules, between sports and church youth group stuff. Exhausted, emotional kids make every day better, said no mom ever!
Needless to say, I've questioned everything about my life and have spent most of the past 4 months in the worst funk ever! Am I really cut out for letting the government dictate almost every aspect of my life? Am I doing more harm than good for my kids, even though we made the decision not to move so they could have some consistency in their lives? Who is my village? What are my real feelings about the church, an institution, for lack of a better word, to which I once had this overwhelming sense of loyalty and commitment? What do I really want to do with the rest of my life?  Was buying this house, in this city, in this neighborhood, a huge financial mistake? If you can't touch the elf, then how do you get it out of the box? (We don't have an elf!) I told you I've questioned everything, and truthfully, am still questioning.
But…it's now 2018. 2017 is over and done with. It's time to pull up my big girl britches, put on my brave face and keep moving forward!  I have intentions that this is going to be a year of confidence and healing for me, a year when I find my place in this world (cue Michael W. Smith).  I can't wait to share my journey with you all! Happy New Year!