*This post contains affiliate links.
Who really uses a formal dining room these days? Not us! We are the antithesis of formal people. I mean, we did a very un-southern thing and didn't even register for fine china, anything silver or crystal 13 years ago when we got married! Nonetheless, very southern women bought us various pieces of silver and crystal for wedding gifts. Our "formal dining room" is right by our front door so it needs to be somewhat pleasing to the eye, but must be a useful space. No wasted spaces here!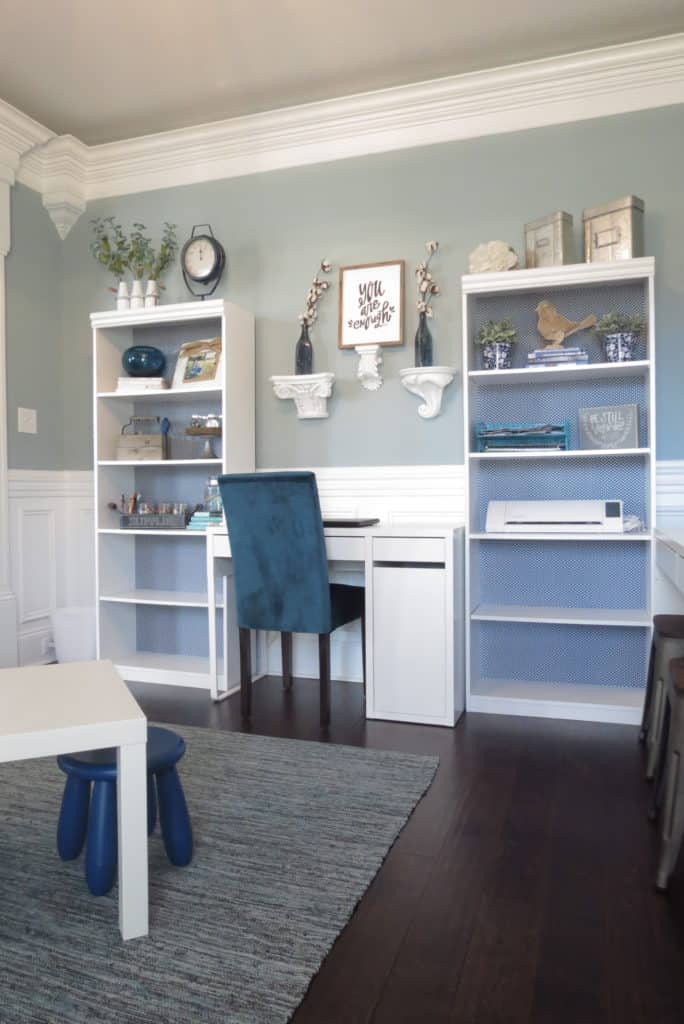 We moved into this house owning 2 tables and 2 desks. I really wanted to make some combination of what we already owned work. There were other spaces that I was more concerned with furnishing than this one! Unfortunately, I never loved the arrangement at all. The room always had this chaotic, thrown together, post-tornado damage feel.
My husband asked me what I wanted for Christmas and my response was a robe and a trip to Ikea. I'm pretty easy to please, though he would likely disagree. A trip to Ikea for us requires a drive through Atlanta. If you live in the south and have ever had to drive through Atlanta, you are well aware that you should plan to spend time sitting in a parking lot on a 6 lane highway for some period of time. I joked once that on a trip to SC, while stuck in traffic in Atlanta, I was able to memorize every word to every song on Adele's 21 cd. Hello. It's me.….I get the shakes just thinking about it.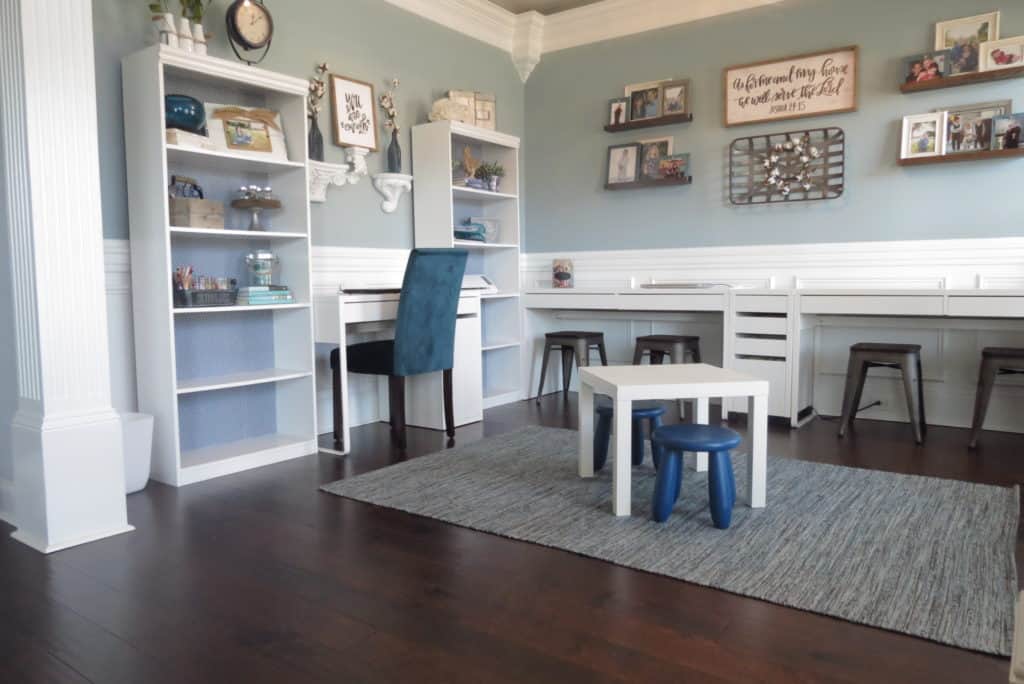 Being the sweet husband that he is, he willingly escorted the kids and I to Ikea as a pitstop on a day trip to Atlanta, of all places, to meet his mom for lunch and exchange Christmas gifts. Thank you, Lord, for "Smaland." After weaving through the maze that is Ikea, we purchased 3 desks a rolling file cabinet, all part of Ikea's Micke collection. I wish I had pictures of us in the parking lot trying to put our desk boxes in our Kia Sedona, along with the load of Christmas gifts GiGi sent back with the us.  We always put on a show, very unintentionally!
With college football bowl games playing in the background, we, well mostly he, assembled the 3 desks. Assembling Ikea furniture is not for the faint of heart. We had to practically take a desk apart to get one of its drawers to fit in the sliders.
I am in love with how the space came together. As with most rooms I decorate or arrange, I'll be tweaking this one until I decide it's no longer worth the effort or expense. The space feels bigger, with more room to move.  Adding desks with drawers definitely helps keep things hidden that normally would be sprawled on a bookshelf or the floor.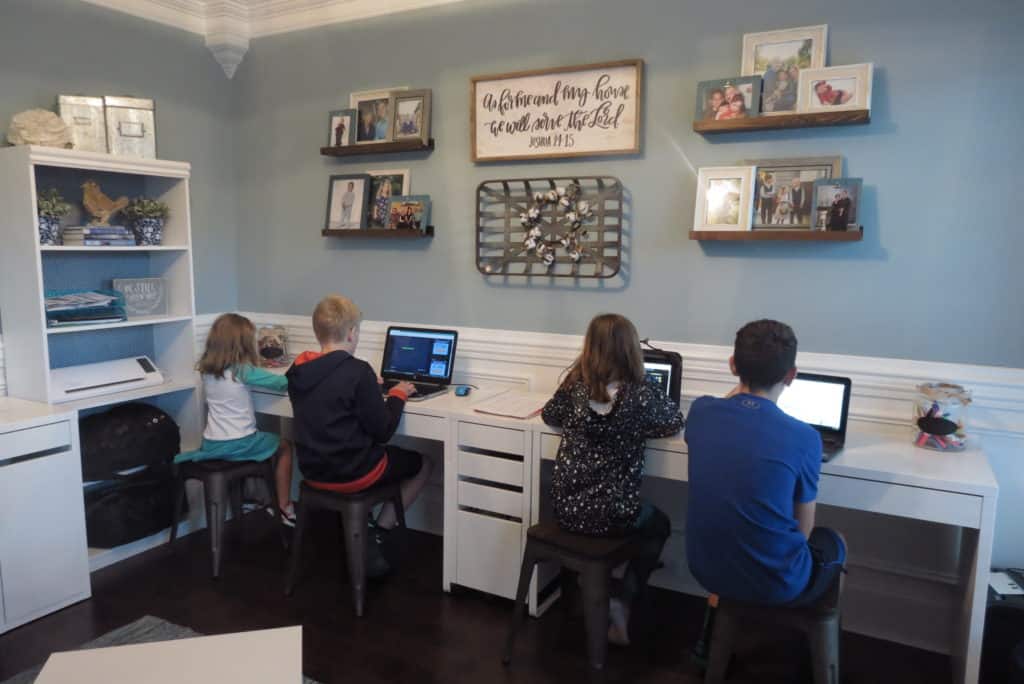 We've struggled since school began with places for the kids to do their homework. They tend to fight over the home laptop, even though the older 3 all have a school issued laptop. They may be young bucks, but they've learned to appreciate the power of an actual mouse over the laptop touch pad. I've remedied that by buying another wireless mouse for them to use as part of this room makeover.
I let the kids help pick out these cute little metal stools with wood seats. JB has become my design assistant, which mostly means I let her throw the trash away. She's gotta start somewhere, right?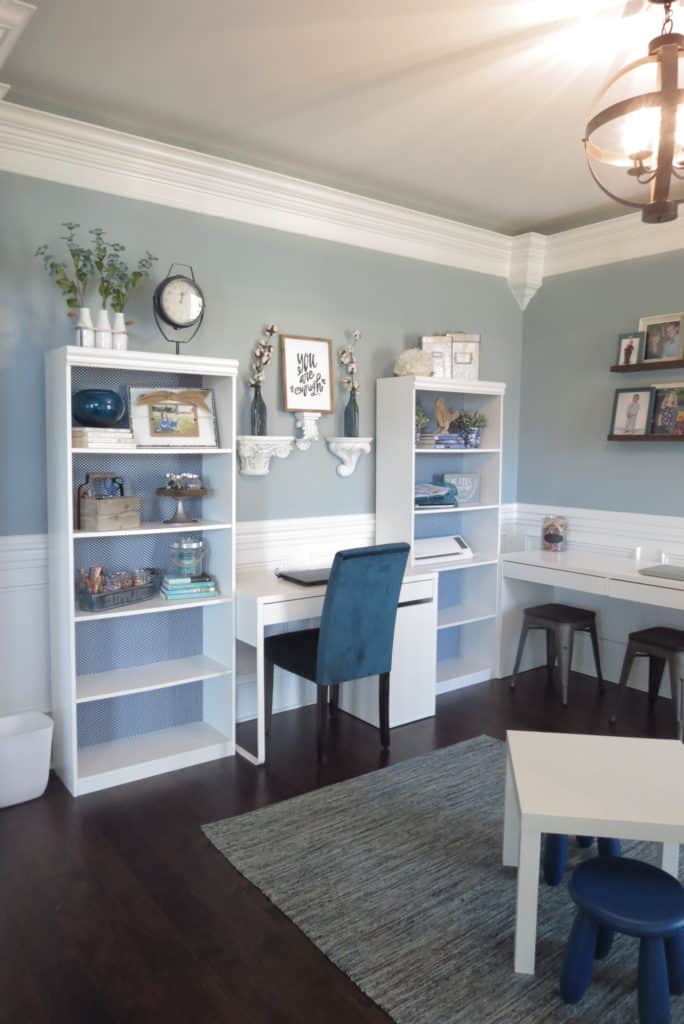 You'll remember these bookshelves from this post where I talk about the issues we had getting 2 identical white bookshelves delivered to our house and then the challenge of getting someone to pick them up from our front porch! I decided that a good way to add a little bit of color or texture to this room would be covering the backs of these shelves with fabric. I bought this fabric for $2 a yard at Walmart! If you have shelves that need an upgrade, this was a quick, easy and inexpensive way to give them a little bit of a makeover.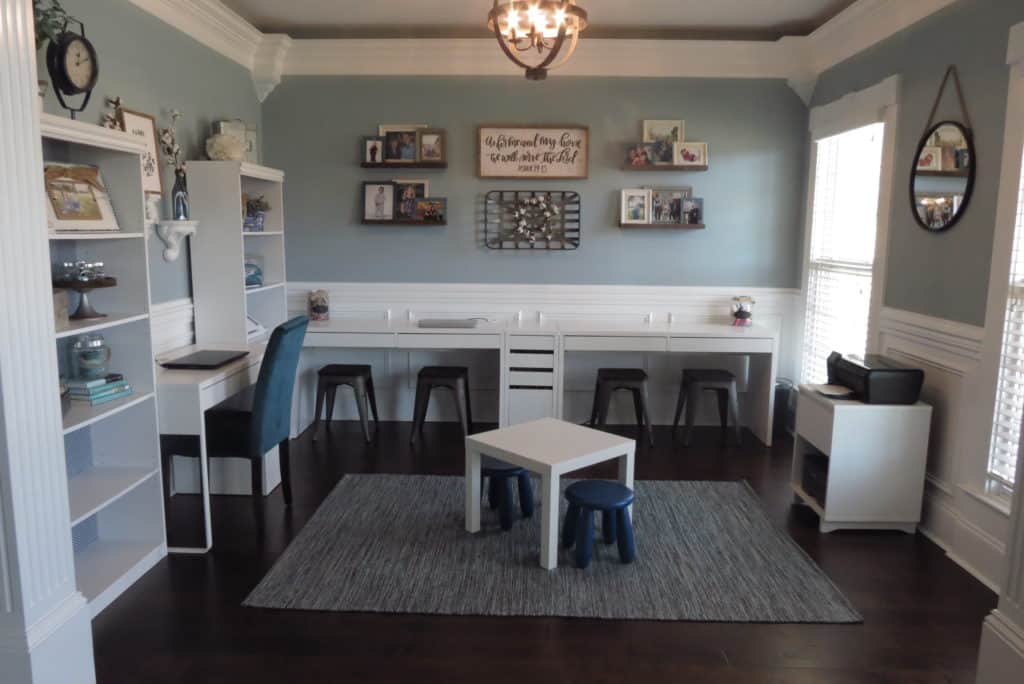 Not a single project I tackle comes without some sort of hurdle or two. These picture ledges were one of those hurdles. I purchased one of them at our local Target store and ordered 3 from Target.com because none of the other stores in our area had them in stock. I hung the first one and was pleased with my efforts. I put the anchors in the wall for the 2nd one and quickly realized I didn't measure the space between the screw holes on the back! In the process of trying to figure out how to remedy my measuring mistake, I realized that the finish on the shelf I was hanging was completely different from the others I had ordered. I returned that ledge to Target and ordered another one! There have been 3 shelves hanging on this wall for almost a week.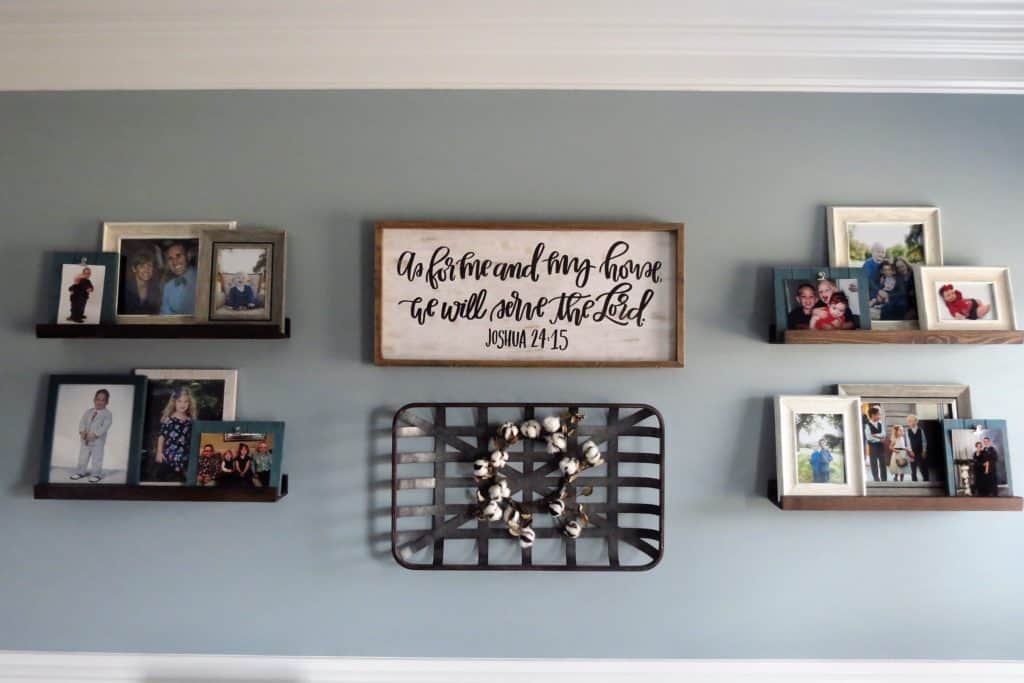 The pictures in these frames are the only personal pictures we have hanging in our house. We desperately need to have new family pictures taken! We haven't had family pictures taken since Harper was 6 months old and she'll be 5 next month. We definitely need to make that a priority when we are all in the same zip code again.
The challenge with this room will always be keeping it tidy. I'm still training the kids to put their backpacks on these bottom shelves. Not sure this will be the final backpack storage solution, but it works for now. One of the negatives of this house is there's no mudroom, or even a foyer, for storing backpacks and shoes. Eventually we plan to give our laundry room a face lift that will include some sort of backpack storage solution.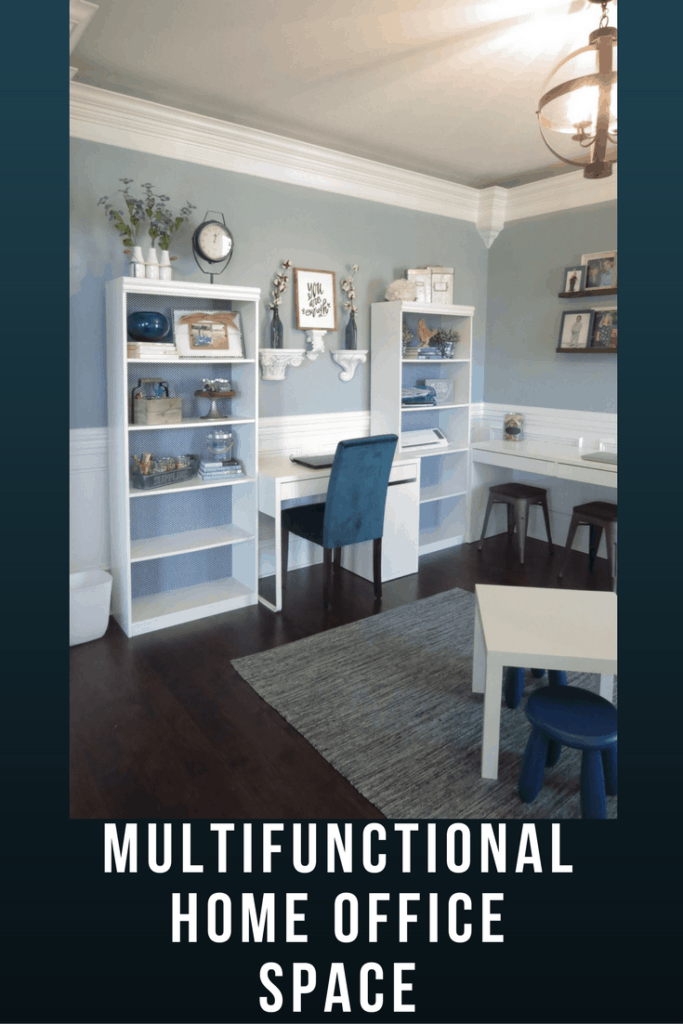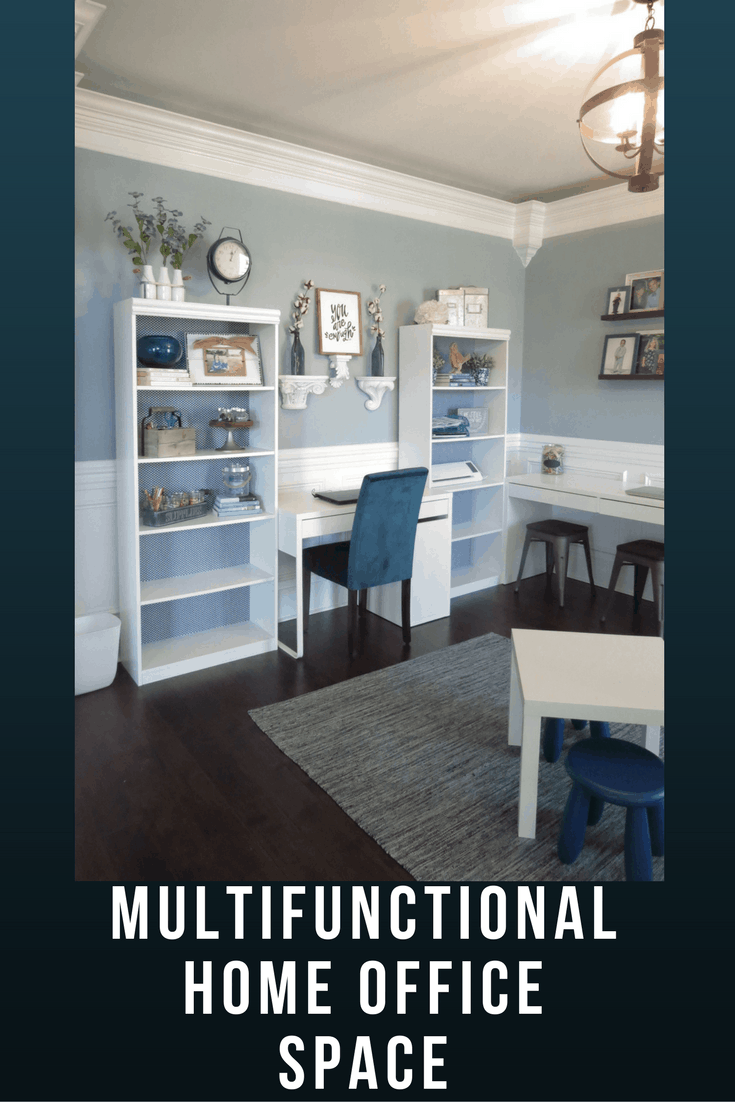 Source List: